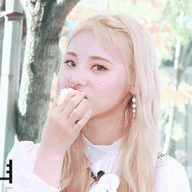 Joined

Jun 16, 2019
Posts

340
Reaction score

377
Points

23,570
Location
Plus Coins
210217 Twice Jihyo and Chaeyoung Interview
2021.02.17
Article: Kimoto
Translation: Vanilla Cupcake
On February 16, Sports Seoul did an exclusive interview with various K-Pop groups' leaders and maknae members about their views on their groups. Jihyo and Chaeyoung from JYP Entertainment's Twice participated in this interview. Let us take a look at the interview details!
​
1) Sports Seoul: What's the best thing about being the leader?
Jihyo: Learning how to effectively organize the group.
2) Sports Seoul: What is the most difficult thing you experienced as a Twice member?
Jihyo: When everyone has different opinions, sometimes it is really difficult to reach a compromise.
3) Sports Seoul: Are there gossips and issues between members?
Jihyo: Everyone has their own role in the group, so that has never happened before.
4) Sports Seoul: If you can start again, are you willing to be a leader again?
Jihyo: At home, I am the eldest, so I never had the chance to live as a maknae, so I think I am very suitable to be a leader.
​
In the end, Sports Seoul asks Jihyo to send some words of encouragement to the younger members of the group during the new year.
Jihyo says, "Please continue to stay as our cute maknae members this year and forever!"
Although Chaeyoung is not the youngest member of this girl group, she is still part of the maknae line.
The interview asked similar questions to Chaeyoung, first asking her to describe the best things about being Twice's maknae.
​
Sports Seoul: What's the best thing about being the maknae?
Chaeyoung: Because I'm a maknae, my unnies are very nice to me, always taking care of me.
Sports Seoul: Can you share the most difficult thing about being such a member of the group?
Chaeyoung: I often have to wait longer during shooting because shooting is usually organized from eldest to youngest.
Sports Seoul: Name a moment when you were jealous or shocked by Jihyo.
Chaeyoung: When she would collect our comments, organize them, and submit them to management, even when our comments are unreasonable.
When asked whether she would like to be a leader, Chaeyoung still chose to be a maknae. Chaeyoung explained, "I don't think I'm suitable to be a leader, because I'm very quiet. I think working hard in my current position suits me the most."
In the end, Chaeyoung told Jihyo, "Thank you for being our support, I love you!"
Joined

Jun 16, 2019
Posts

2,984
Reaction score

8,192
Points

25,270
Location
Plus Coins
i would b leader mknaee

also main vocal
Last edited: