Iroh
Social Media
Early Supporters
VIP+
Posts

4,006
Reaction score

12,979
Points

47,070
Plus Coins
ALBUM REVIEW: IZ*ONE – "ONEIRIC DIARY"
Written by: Dragon of the West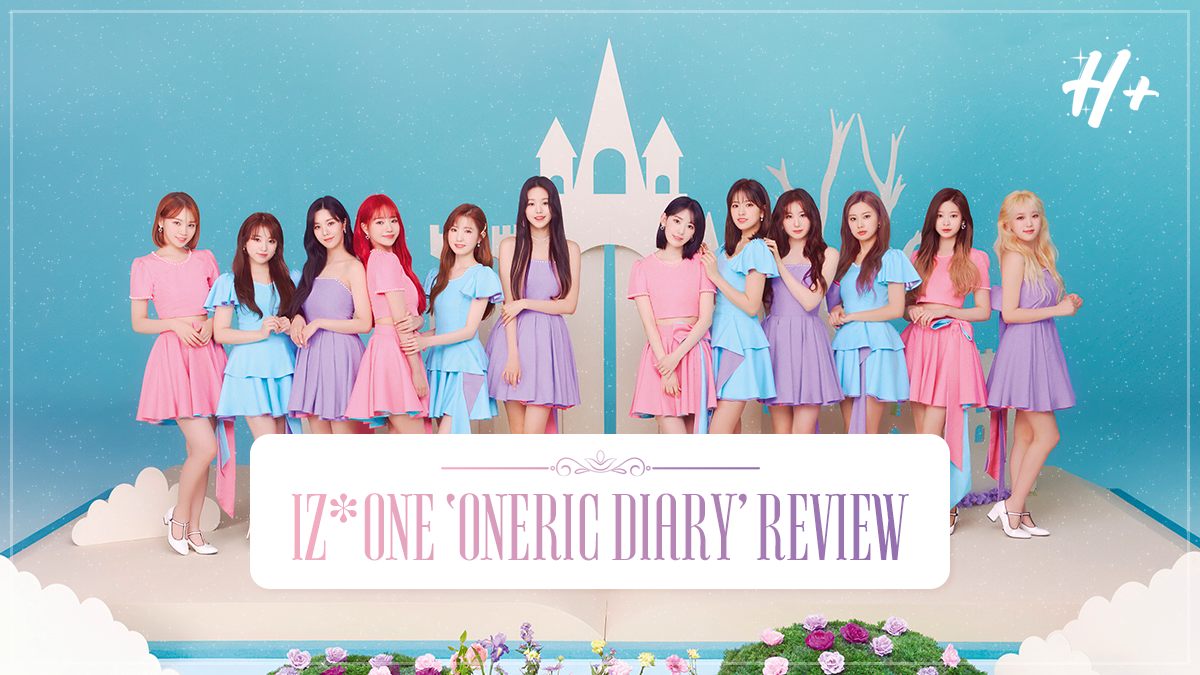 IZ*ONE is a girl group under the management of Off The Record, which is a subsidiary of Swing Entertainment. They were formed from the popular survival show Produce48 and debuted on October 29th, 2018 with the mini-album "Color*Iz" and the title track ''La Vie en Rose''. Despite being caught up in a controversy in late-2019, caused by several higher-ups within Mnet — due to their consistent vote tampering, which effected the shows final results — the group has managed to come back stronger than ever in 2020, breaking not just their first-week sales record, but the overall first-week sales record for a girl group not once, but twice, all within the space of four months! Now, they're back with their 3rd mini-album "Oneiric Diary", which is the group's first release since the conclusion of their flower trilogy and shows a new side to the group.
'Welcome'
Despite this essentially being just a simple intro to the album, I actually quite like it. It has such a beautiful music box sound and feels quite whimsical. There isn't much to talk about since it is quite short, but it does serve the purpose it was intended for. Also, if there ever was an actual place like ''IZ-LAND'', you best believe I'd be booking a one-way ticket to go there.
7/10
'Secret Story of the Swan'
Being their first title track after completing their flower-concept trilogy, we all expected this to have a different sound, and that's exactly what it brings. ''Secret Story of the Swan'' is essentially a moombahton song, which is a sound they've explored before in the b-sides ''Rumor'' and ''AYAYAYA'' which are both fan-favorites. The intro gets off to an intense start, with some big brass hits and goes straight into a sort section of the chorus before getting to the first verse, which is something that caught me off guard. This song once again shows off the group's vocal prowess, especially from Yuri, Eunbi & Chaewon. The short rap section from Yena and Chaewon was very nice, although quite short. I would have loved it even more if it carried on for a bit longer. The bridge is undoubtedly the standout part in this song and they execute it flawlessly. We also get a short dance break section with Chaeyeon at the centre of it, as she deserves. Overall, it's a pretty good song, but not a strong enough title track compared to some of their previous ones since the chorus lets it down a bit.
7.5/10
'Pretty'
Would it really be an IZ*ONE album without a sweet and cute song? The whistling sounds are incredibly catchy to the point where I've actually caught myself imitating them over the last few weeks. The trap breakdowns and synths are well utilized without drawing away from the cute aspects being brought out in the song. IZ*ONE is growing quite a repertoire of great songs that lean to the cuter side, with the likes of "Airplane", "So Curious", "Pink Blusher", and now, "Pretty". I'm quite satisfied with this being one of the songs they're promoting alongside the title track. Because the performance for it is honestly one of the most adorable ones I've seen in quite a while. It really brings a smile to your face. The group shows that if you're going to do a cute song, you might as well go all out and do it well!
8/10
'Merry-Go-Round'
''Merry-Go-Round'' is a song that utilizes that nu-disco sounds remarkably well, which is a testament to how good e.one is as a producer. The string melodies are reminiscent from something you'd expect from a WJSN song and they work perfectly here. I've always wanted them to have a retro concept for one of their songs, and this is probably as close to that as we're going to get, at least for now anyway. The retro-funk vibe with those sharp, piercing strings sets such a great vibe. The cherry on top is the fact that Hitomi — one of the Japanese members in the group, who only started learning Korean less than 2 years ago — wrote all the lyrics for both the Korean and Japanese versions of the song. Some of these lyrics include ''Now take lighter steps // Like a Merry-Go-Round // The universe of just the two of us // That is dancing as if the time has been broken into pieces''. I think that a stronger bridge and outro would have made this a perfect contender for the title track of this album. I do recommend watching the
performance
video for this one, as it greatly elevates the song.
9/10
'Rococo'
''Rococo'' is a song that fits the tropical concept you'd expect from most songs released during the summer. The song manages to blend the fun aspects of itself with a more melancholic darker vibe that helps in making it even more interesting. It's just such a shame that this is the only song from the entire album that is yet to get a performance, and I'm not just saying that because it's my favourite song on the album. This could have easily been the title track and I would have been more than satisfied. The lyrics are also quite interesting for instance, Chaewon's part in the chorus being ''Contain the light inside this darkness // Draw our own galaxy // The path that the stars have created, lightly step into it // Inside the halted world, we rise up''. Overall, this is a pretty great song that I can see myself listening to quite a lot for weeks on end.
10/10
'With*One'
We finally get down to the closing song and what better way to end it than with a tear-jerker? Not only is this Eunbi's debut as a producer (as part of the producing team Psycho Rabbit), but this also has lyrics written by all 12 members of the group so once you tie that up with the meaning behind the song, you've got yourself the perfect song for the fandom. It's a nice and tender ballad with light falsettos from the members that are perfect and build into an uplifting chorus. The lyrics hit hard if you're a fan of the group since you can completely see how they've poured their feelings out while writing them. The first verse starts off with them singing about the dark times that both the girls and the fans went through not too long ago ''From yesterday to today I couldn't sleep at all // Because memories of those moments kept occurring // Precious pieces inside the clear memory // Every night I only wound you more'' but as the song progresses, it becomes clear that they wrote the lyrics with the intention of reassuring fans about the bond they share with them. This becomes even more obvious through the lyrics ''Words that I want to gently convey // I'll always protect you at your side // Let's lean on each other''. This is the perfect song for anyone who's a fan of IZ*ONE.
8.5/10
Overall, I feel that "Oneiric Diary" was a pretty solid release from the group with some great b-sides in the form of "Merry-Go-Round" & "Rococo", though I just wish they did a bit more with the title track especially the chorus section. I'm really excited about how their discography is advancing and greatly anticipate their next comeback, especially in terms of seeing which concept and genres they'll explore next. I also hope we see even more member participation when it comes to composing or writing lyrics for their songs, although they've already done a lot more than what you'd expect from a K-pop girl group.

__________________________________________________

Artistic Creativity: 8.5/10
Vocal Quality: 9/10
Music: 8.3/10
8.6/10
__________________________________________________
PROOFREAD BY: @Polaris_Tae
GRAPHICS BY: @jindori
​