Posts

46
Reaction score

21
Points

120
Plus Coins
The previous reported October Kpop documentary from UK News Channel, BBC, has just mysteriously caused issues after supposedly
dropping girl group Gfriend from the interview and replaced them with recently debuted boy group, SuperM.
Many buddies took to twitter after a description for the interview
focused soley on SuperM and Lee Sooman.
posted July 2019




Up until now, it has been heavily reported that the Kpop Documentary was suppose to be an interview of girl group, Gfriend, and SM CEO, Lee Sooman, with
no reports of any additions or withdraws or even focusing on any other groups period.
It was even reported by Source Music that
Gfriend had already done the interview most likely in July.
Although the interview was slated for
September
, there was no reports as time pasted until it was finally being released in October, but with Gfriend seeming to be backseated entirely and SuperM become the focus out of nowhere.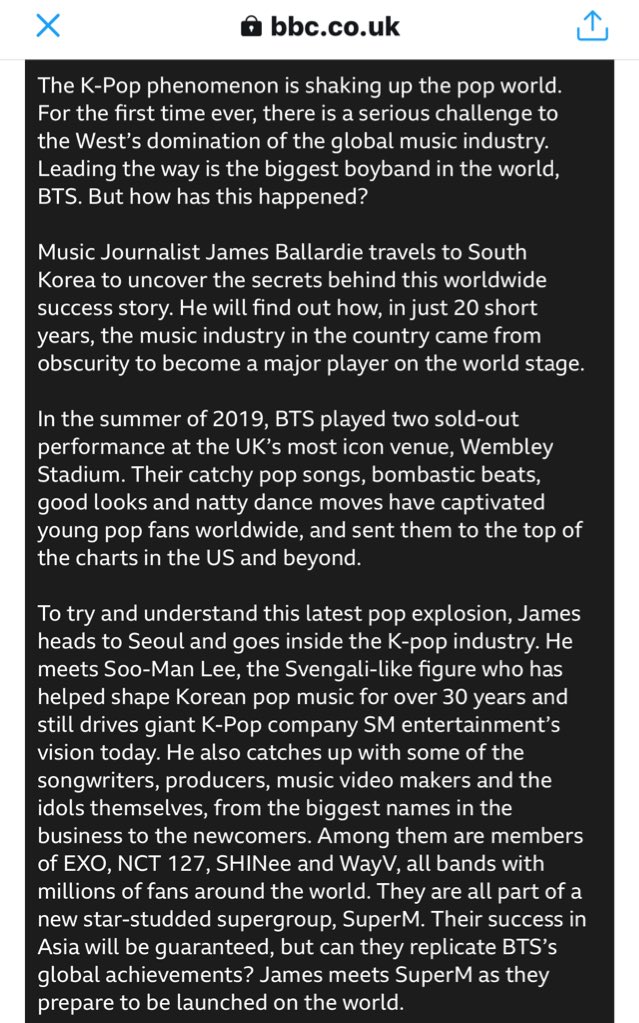 My Thoughts:

As a buddy, I 100% do not know how the hell SuperM became a vocal point in this documentary unless Sooman shoved them into there last minute. Gfriend has not been dropped, but I'm upset that they were headlining this even Korea was reporting about this on the news but now they seem to be completely ignored to hype mainly SM and for some reason BTS is all over this description despite not being in it. It's the same project to so what in the world happened? I can't help, but to feel like SM is mediaplaying really hard like when this interview was resported,
SuperM was reported for debut in August and even more suspicious Source Music had announced to have become a subsidairy of Bighit Entertainment
late July after the documentary was announced.
I've seen some SuperM fans claim it was never solely about Gfriend, but it was also not about SuperM especially when they weren't revealed at any point after their confirmed existance yet they seem to be the main group of focus so what now? If there were more being interviewed especially a SM group I'm pretty sure the media would had said it well after they were revealed.
It's just really obvious especially with the mentioning of BTS as if SuperM is their biggest threat like remember NCT being mediaplayed and compared to BTS? That's all I'm seeing right now and I would usely go "I could be wrong" but this is SM we are talking about.
I refuse to look past this, but what do you guys think about this?​
Last edited: