Joined

Jun 19, 2019
Posts

7,362
Reaction score

3,954
Points

28,820
Location
Plus Coins
hmm, i guess my question is

what does Nine Muses meant to you?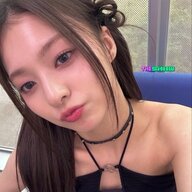 Girl Groups Supporter
Donor
Early Supporters
Joined

Jun 16, 2019
Posts

5,285
Reaction score

4,181
Points

20,720
Location
Plus Coins
What do she wish/hope people think about you ? When people think about "Ryu Sera" ? What image do you want to leave ?
Nations Idol
Early Supporters
Joined

Jun 16, 2019
Posts

2,121
Reaction score

6,093
Points

16,770
Location
Plus Coins
what is sera fav type of animal ?
<3
Social Media
Top Ten Elite
Fifth Place HoE
Joined

Jun 19, 2019
Posts

11,148
Reaction score

113,710
Points

104,920
Plus Coins
Any rookie group(s) you're eyeing on?
1. What can we do to support sera in her in journey?

2. Any recommendation (song/performance/video/variety) for newer fans of yours?

[When I fell in love with nine muses, it was already too late, most members had left. But watching their previous performances, Sera was easily one of my faves. Her voice and charisma catches your attention. Yet she seemed so humble in her YouTube channel. I hope this goes well!]
Last edited by a moderator:
Ain't Nobody
VIP+
Donor
Early Supporters
Joined

Jun 15, 2019
Posts

6,218
Reaction score

17,332
Points

43,770
Location
Plus Coins
what is sera fav type of animal ?
shocked you didn't ask for her wons XD
Joined

Jan 8, 2021
Posts

4
Reaction score

12
Points

20
Plus Coins
Hello, lovely people of H+! How are you today? PR team brings you wonderful news that we got our first interview with lovely and talented -

Ryu Sera

! She is a singer, former Nine Muses member and leader, and a current participant on TV show Miss Back! She also has her

YouTube channel

where you can see her react and give love to other female idols! You may also want to check out her mini-album, Stay Real, which was released back in 2018! Check out her recent release, Lean on Me, below. We will be inquiring her more about Miss Back and what are her plans and goals for 2021!

Me, your local Chococo, will be conducting an interview with her!

And I would like to ask you my lovely H+ people to ask her questions!

QUESTIONS WILL BE ACCEPTED TILL JANUARY 16TH, 9PM GMT! (JANUARY 17TH, 6AM KST).

We will be finalizing questions till then.

Thank you so much for your participation and take care!

​
can you ask her, what is her favorite live stage she ever performed on?
We're still here and still proud
Donor
Joined

Dec 28, 2020
Posts

2,322
Reaction score

3,574
Points

12,320
Location
Plus Coins
- What collaborations are you interested in doing in the near future?
- What do you consider your best quality?
- Who is your favourite producer to work with atm?
- What is your favourite memory of working with your former group 9Muses?
Last edited:
Joined

Jul 12, 2020
Posts

1,235
Reaction score

7,116
Points

13,820
Plus Coins
QUESTIONS HAVE BEEN CLOSED!
Thank you everyone for your help and enthusiasm, hope I can reach out to you all with some good news! <3
SKZ Simp 🍇🍇🍇
Early Supporters
Joined

Jun 26, 2019
Posts

1,527
Reaction score

1,618
Points

9,370
Location
Plus Coins
If you had a one way ticket anywhere, where would you go?
Yes, its a pun as well.
This site uses cookies to help personalise content, tailor your experience and to keep you logged in if you register.
By continuing to use this site, you are consenting to our use of cookies.