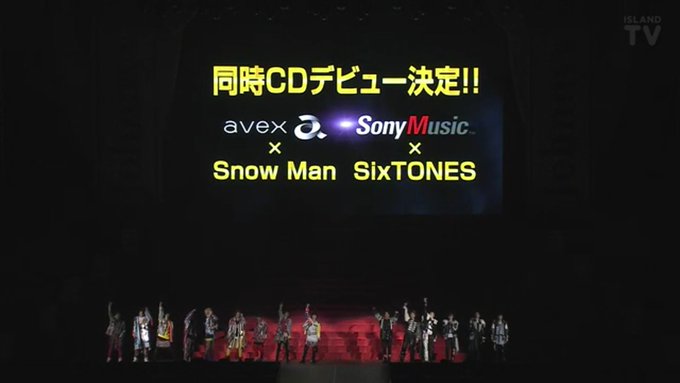 Today during Johnny's jr Tokyo dome concert it was announced that 2 Johnny's jr groups SixTONES and Snowman will be debuting next year. Snowman will be debuting under avex while SixTONEs will be debuting under Sony. The last group to debut was King & Prince in 2018 that debuted under Universal music sub label that was created for them Johnny's Universe.
SixTONES will be also leaving Johnny's jr channel and opening up their own channel and an instagram account.
SixTONES will be also on a nation wide tour in 2019-2018 that includes 19 locations.
their instagram account is
this
SixTONES
(ストーンズ) is a six-member Johnny's Jr unit. This unit was introduced for the first time on May 1, 2015, during Team C's performance in Johnny's Ginza 2015. The group was better known as Bakaleya6 in 2012 during the airing of drama Shiritsu Bakaleya Koukou.
Snow Man will be opening up an Weibo account but still for now remaining on Johnny's jr youtube channel.
Snow Man will be also going on an Asia tour.

Snow Man is a Johnny's Jr unit. This unit's has been active since May 3, 2012. Originally the group had 6 members but after the creation Johnny's Island ,an agency created to manage Johnny's jrs, Johnny's Islands CEO Takiwaza Hideaki better known as Tackey announced on January 17, 2019, that 3 members were to be added to snowman making the group a 9 member group.
Last edited: