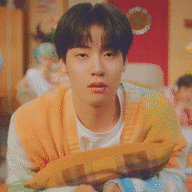 N.FIA / BABY / DEOBI / FOREVER / MYDAY / ONCE
Early Supporters
Posts

10,480
Reaction score

13,942
Points

81,120
Plus Coins
MUSIC RECOMMENDATIONS: 10 TWICE B-SIDES YOU SHOULD LISTEN TO
Written by: meltrosz
In light of TWICE's comeback 41 hours from now, I've compiled ten b-sides that I think everyone will love. Whether you're their fan or not, you should definitely listen to these songs! If you're not a fan of their title tracks, then maybe these songs will convince you that there's more to their discography than meets the eye. If you're already a fan, then maybe these songs will help you get in the mood for TWICE and their release in 41 hours!
#1- 'TOUCHDOWN'
Read the lyrics here

"Touchdown" is one of the tracks in TWICE's second album, "Page Two", and was promoted in music shows alongside "Cheer Up". It is evident with this song how different TWICE's initially intended music style was from the bubblegum pop they became known for after "Cheer Up" blew up. Nevertheless, the difference of this song from their later ones is not so drastic, as it's still within their signature pop genre. It has a strong and fast rhythm, which gives off a tough and fierce vibe. It is very energetic, so you can listen to it whether you want to have some fun or want to get cheered up. The bridge sung by Nayeon and Jihyo is my favorite section in the whole song, which contrasts the sound of the verses and chorus; a nice break from the song's fast tempo. Although Chaeyoung did not have a lot of lines in this song, I think she shined the most because it was as if she was leading the whole group through her counting.
#2- 'SHOT THRU THE HEART'
Read the lyrics here

"Shot Thru The Heart" perfectly shows TWICE's iconic bubblegum pop sound without being over-the-top. It has just the right amount of sweetness that it won't rot your teeth. The song also holds a special meaning to fans, as the lyrics of the song were written by the Japanese members: Momo, Sana, and Mina. It has a very catchy verse, pre-chorus, and chorus. It perfectly balances the upbeat chorus and the slow verses and pre-chorus while making them blend so well. Even during the abrupt change in time signatures, everything feels right and harmonious. I especially liked the alternating singing in each line during the pre-chorus, as well as Jihyo's and Jeongyeon's parts in the choruses. Overall, it's a very catchy song about crushes that we can all relate to.
#3- 'ICE CREAM'
Read the lyrics here

"Ice Cream" is one of the ballads most beloved by fans in TWICE's discography. Unlike most ballads, this song does not have a lot of high notes or belting. In fact, the song is mostly low notes, which give off a very chilly feeling ― just like ice cream. However, this song will definitely melt your ice-cream-like heart! It is a laid-back ballad suitable to listen to when you want to relax, when you're about to sleep, or when you need to focus while studying. The lack of high notes in this song doesn't mean it's a weak ballad. It is well-compensated by the catchiness and the beautiful harmonies, which I think sounds perfect for this song. Nevertheless, it also has its fair share of high notes, particularly Nayeon's falsetto in the chorus. I also love that unlike many K-pop ballads, they opted not to include a rap section and chose to stay a ballad consistently throughout the whole song.
#4- 'CHILLAX'
Read the lyrics here

"Chillax" is another bubblegum pop track in TWICE's "Summer Nights" album, alongside "Shot Thru The Heart". However, unlike the latter, this song truly embodies the spirit of summer that the album wanted to achieve. It is fun, catchy, upbeat, and full of energy. It's a song about pushing all your troubles to tomorrow ― or maybe to an indefinite time ― and just chill, relax, and have fun. And the song is precisely that. Just from listening to the song, you instantly want to chill and relax, or maybe go someplace and have fun. It is my personal favorite among their bubblegum pop B-sides, and I think it's very easy and pleasant to listen to even if you're not a fan of the group. The main vocalist, Jihyo, surprisingly did not have a lot of lines, but her few ones in the verse and pre-choruses were the most iconic moments of the song. Nayeon was also able to carry the chorus alone very well. The outro by Momo and Tzuyu, while it's not particularly memorable, is a nice addition and completed the song.
#5- 'GIRLS LIKE US'
Read the lyrics here

In April 2019, TWICE surprised fans and non-fans alike when they released their album "Fancy You", which featured tracks no one expected from the group. Musically, I think it is their strongest album, with the best B-sides they've ever had ― "Girls Like Us" one of them. Fans usually joke that the title means "girls love us" (which they do) when it really means "girls similar to us". The group's leader, Jihyo, wrote the lyrics, and it shows how much she has matured as a lyricist and as a person. It is a song telling girls to run after their dreams and to not be scared. "Girls Like Us" has a very prominent bass, unlike many of their previous songs, but still manages to retain that characteristic that makes it a TWICE song. Although I miss when Nayeon and Jihyo were singing the chorus, I like how with this song, everyone sings it together. Having only one line to transition from the verse to the chorus instead of a whole pre-chorus section also felt very refreshing. Overall, it is a nice transition from the style that made them popular into a new one.
#6- 'STUCK IN MY HEAD'
Read the lyrics here

Like the previous song, "Stuck In My Head" is also a track from their iconic album "Fancy You", and as the title suggests, it is something that will definitely get stuck in your head after listening. The whole chorus is just those four words repeated over and over, yet somehow, it just works. It is extremely catchy and doesn't get annoying no matter how repetitive it is. Aside from the catchy chorus, the song is made even better by the eargasmic pre-chorus, which resembles TWICE's bridges in their previous songs, especially since both are sung by the group's angel, Mina. The verses and even the rap section, in my opinion, are also very catchy. Sadly, since their usual bridge is now used as a pre-chorus in this song, we don't get any of that section here. It just repeats the pattern of verse-pre-chorus-chorus, with a rap section towards the end. Nevertheless, hearing Mina's bridges over and over is well worth it. Overall, it is a well-balanced song without a weak section.
#7- 'LIKE A FOOL'
Read the lyrics here

"Like A Fool" is a track from their debut album "The Story Begins", but it is one of their best B-sides ever. It is the first B-side I heard from TWICE, and it instantly made me fall in love with them and decide to stan them. It is a simple acoustic ballad and quite unlike any of their other songs in their whole discography. It's like this song came from a completely different group and doesn't have that signature TWICE sound. Nevertheless, it is a very welcome addition to their discography. The rap section also complements the song very well. In their every release, I always wish they'd have something similar to "Like A Fool" in their tracklist. I especially liked the catchy but emotional chorus, and although Momo had only two lines in the song, I really liked those parts, as they feel like the sprinkles that complete the song. Mina's part in the bridge, as usual, is also very heavenly.
#8- 'GET LOUD'
Read the lyrics here (translated by @øåø for Hallyu+)

"Get Loud" is my personal favorite track from their latest album, "Feel Special", which I think many fans will also agree on. Similar to "Girls Like Us", Jihyo also participated in the writing of this song's lyrics, albeit she was not alone this time. It has a much stronger and faster tempo than their tracks in "Fancy You", and the stark contrast to their previous musical style is much more apparent now. Nevertheless, one thing that they never lost is the catchiness of their songs despite how different this song sounds. Contrary to its title, this song is actually not loud or overbearing but instead gives a chill and subtle feeling due to its being sung in a low key signature, which makes it very pleasant and relaxing to listen to. My favorite part of the song is the first part of the chorus, which is sung by the rap line Dahyun and Chaeyoung, as well as Jihyo's one-liners in the chorus. I also like how they didn't force a rap section in this song ― which they usually do in some tracks ― because it was perfect as is.
#9- 'JALJAYO GOOD NIGHT'
Read the lyrics here

"Jaljayo Good Night" is a song that shows that their best B-sides are not only found in their later releases but also their earlier ones. It is one of the thirteen tracks in their first and only full album, "Twicetagram". Similar to "Like A Fool", this song is also an acoustic ballad, albeit a bit more unadorned, accompanied only by a guitar. The chorus has a bit of a jazzy feel and alternated between the Japanese members: Momo, Sana, and Mina, of which I liked Momo's slurry version the best. It also has an outro, which is just Sana whispering in your ear a long message, wishing you a good night. Overall, I consider it one of their best ballads and songs in general. I also loved all the blending and harmonies they did, which were very pleasant and relaxing to listen to. It is definitely a song you can fall asleep to.
#10- 'HOT'
Read the lyrics here (translated by @øåø for Hallyu+)

We cannot talk about TWICE's B-sides without mentioning "Hot", so I saved it for last. The moment it was released along with their album "Fancy You", many fans instantly agreed that this is one of if not the best B-side they've ever had. It's so good that it could have been released as a single instead of just being "one of the tracks" in the album, unnoticed by others. One of the best parts of this song, in my opinion, is the "boom boom" that is played in the background during the verses. It instantly sets the loud and strong beat of the song, making an impact right from the intro. Although it disappears later in the song, it is still replaced by a loud bass that keeps the rhythm lively. I especially loved Jihyo and Chaeyoung's parts in the pre-chorus. The former's lines even resemble TWICE's iconic style of singing their bridges, which is a refreshing break from the fast tempo. Nayeon's part in the chorus, although it was just one word repeated over and over, was also very catchy.
Did you enjoy the songs on this list? I hope you did! I thought very hard on which songs to feature here, and I decided to go with some of the popular favorites among the fandom, as well as my personal favorites. Other fans may disagree with my list, and they may have other ideas on which B-sides everyone should listen to. However, I believe, in the end, what we all want is for TWICE's music to reach everyone's hearts. They are not merely just songs for us, but companions for when we were down, happy, depressed, and ecstatic. We connect to these songs, and they hold special meaning to us, and so we want these songs to touch you as well! If you're their fan already, feel free to drop the B-sides you like in the comments below, and I hope you liked the songs on this list. Maybe you can even find a new perspective on these songs after hearing others' opinions about it and listening to them again.
YOUTUBE PLAYLIST
PROOFREAD BY: @Dragon of the West
GRAPHICS BY: @meltrosz
Special thanks to @øåø from H+ translations!
​