Kim Chaewon
Early Supporters
VIP+
Most Tweeted Threads 2019
Posts

11,898
Reaction score

13,069
Points

53,820
Location
Plus Coins
Playlist Review: Queendom Final Songs
Written by: yooamygirls & Rektinq
After two months of airing, the Mnet show "Queendom" (starring AOA, Lovelyz, Park Bom, Oh My Girl, (G)I-DLE, and Mamamoo) finally released the highly anticipated finale singles. Each artist released one original song simultaneously, and they all performed it a week later in the final episode. While we won't go into detail about the performances themselves and the ranking, we think the songs themselves deserve a lot of recognition and applause. This was a very solid album full of bops from six different artists, covering all sorts of genres and styles.
"Sorry" - AOA
yooamygirls:
AOA made a name for themselves as the queens of sexy concept during the second and third generations. Although they've lost some members and have been on an unofficial hiatus for over a year, they proved that they were still the ladies on top throughout the episodes of Queendom. They went viral for their performances such as 'Egotistic', and I was thoroughly impressed by their versatility and maturity. 'Sorry' played off their strengths very well, as it's a sort of slower, sexy song that stood out in this album. Bits of it reminded me of Mamamoo's usual style, but as a whole, the song seemed very AOA-like. While it wasn't an instant ear-worm like their usual title tracks, I applaud them for trying something new while still giving it the unique AOA flavor. I especially loved the post-chorus where the girls repeated: "stop the love."
9/10
Rektinq:
AOA is one of those groups that I used to love but slowly stopped following, so it was interesting to hear songs from them again. This song felt so unique compared to their past releases, and you really can't compare most of them to this western-styled stage. Personally, I think the choices made, when it comes to the style and beat, fit AOA and their voices very well. I enjoyed the beat and the overall uniqueness of this song and personally recommend it. The only thing I didn't enjoy much about this song was the chorus. While it was still good, it was somewhat different from the rest of the song and had it been more similar, I feel like it would've been better. Overall, though, I really enjoyed this song. I didn't listen to it much initially but lately, I've had it on loop.
9/10
"Moonlight" - Lovelyz
yooamygirls:
Honestly, if someone simply told me to listen to this song, I would never be able to guess it's a Lovelyz song. The girls' unique vocal tones were the only things that made me recognize this as a Lovelyz production, as the melody and vibe themselves were very different from their usual style. It had a very western, almost Latin music vibe to it. It's jazzy and not overwhelmingly cute or repetitive, which I found to be the case for certain Lovelyz songs. I thought "Moonlight" brought out the maturity in the girls' vocals very well (especially for Kei, Sujeong, and Jin) while also giving them an outlet to showcase their multifaceted charms. I loved this song at the first instant, and only love it more every time I listen to it.
9.5/10
Rektinq:
Lovelyz is one of my favorite groups, and as such, I had high expectations for this stage. I definitely wasn't disappointed. The song began slowly with some soft vocals, making me think that it would be a ballad, but this wasn't the case. Compared to the rest of Lovelyz's releases, this was definitely a new concept for them, and I really enjoyed it. I always thought that their usual cute sunshiney concept fit them really well but after this song, I realized that they could definitely explore outside of that. "Moonlight" is one of the songs that I really enjoyed on Queendom, but sadly the chorus wasn't much to my liking. I feel like the style of the song fit Lovelyz well, but the chorus was out of place for them. However, this was still my favorite song from all of the final stages of Queendom, and I can point out things I love about it all day. Lovelyz's voices blended together so well that one could even mistake the song as being performed by just a few members. There were also some high notes in this song, which were some of Lovelyz's best ones to date—at least, in my opinion. "Moonlight" is definitely my favorite song from all the Queendom stages and one that I would recommend to all.
9.75/10
"되돌릴 수 없는 돌아갈 수 없는 돌아갈 곳 없는 (Wanna Go Back)" - Park Bom
yooamygirls:
I admit that I'm not the biggest fan of Park Bom's voice. Although I did enjoy some of her performances in "Queendom", I wasn't that excited for her final single. Although "Wanna Go Back" was my least favorite song out of the six, it was still quite enjoyable. It's the most 'ballad' song of the album, but that doesn't make it boring. I think it utilized Park Bom's voice very well, and the way she belted the chorus is pleasant to listen to. I think the lyrics really sold the song to me—it's a throwback to the good old days of 2NE1 that even non-Blackjacks can reminisce about.
6/10
Rektinq:
Park Bom's songs have always been hit-or-miss for me. Her stage on "Wanna Go Back" was in the middle for me, as was the song. During the first few listens, I didn't enjoy her voice that much. But the more I looped it, the more I started to enjoy it. I think this song fitted Park Bom's style really well, and her powerful vocals really helped elevate the song to a whole new level. But still, with all this in mind, there are some things that really could've been improved in this song. Her vocals were better than I expected, but the song itself wasn't. I feel like the beat wasn't that unique. Of course, this song isn't the style of song I'd usually listen to, so I am surprised that I liked it as much as I did. I don't think this song was bad at all, and Park Bom's vocals are one of the most powerful I know, but I just wish this song was a bit more unique—both beat- and style-wise.
7.5/10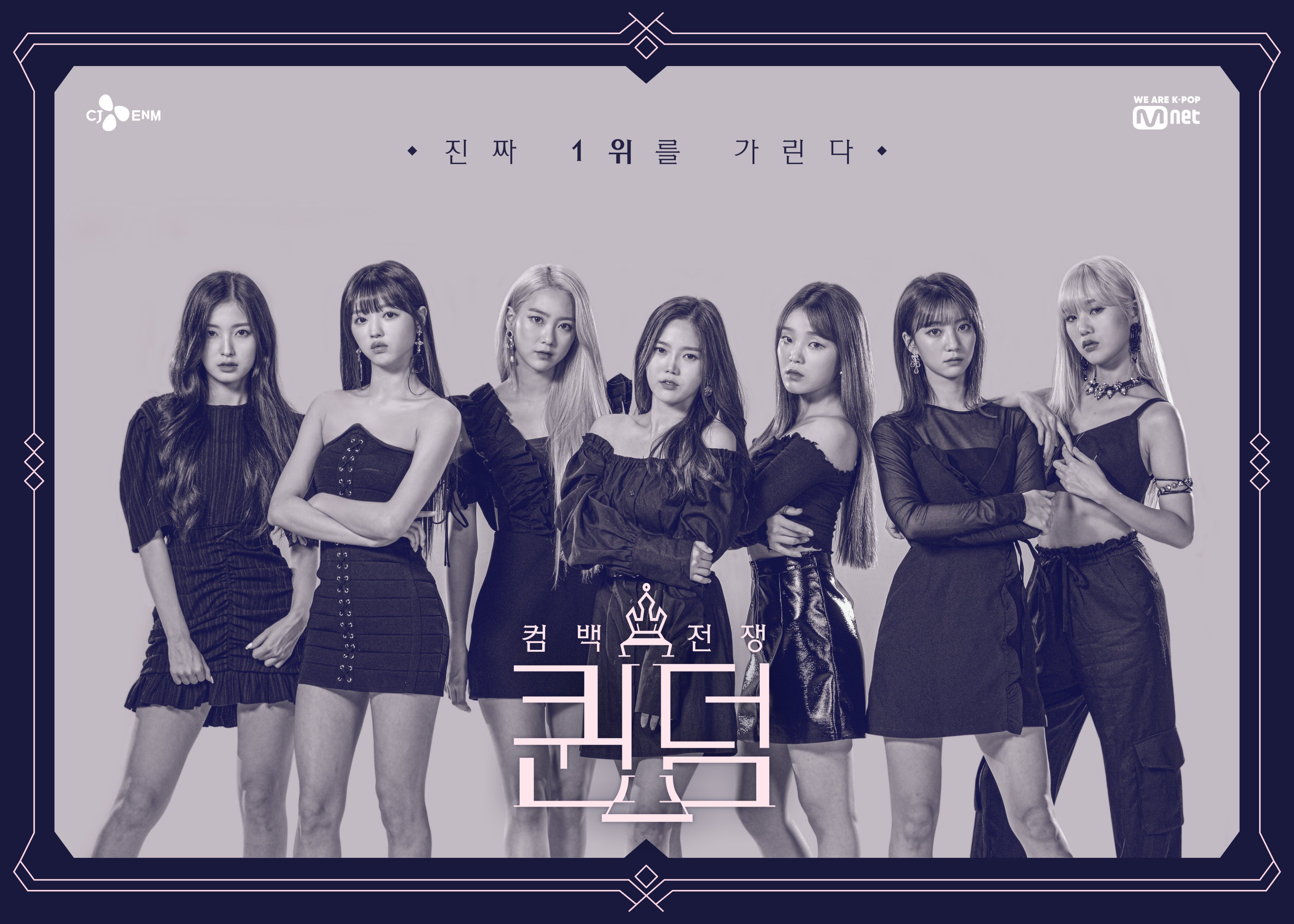 "Guerilla" - Oh My Girl
yooamygirls:
As a Miracle, I was rooting for Oh My Girl during the entire show and was blown away by their top-tier performances each week. When "Destiny" and "Twilight" went trending, I began to have high hopes for their final song. "Guerilla" met every bit of my expectations, and skyrocketed to the top of my favorite Oh My Girl songs. It's a lot darker than what the girls usually do for their title tracks, but it doesn't feel like the girls are forcing an entirely new concept on themselves. Instead, "Guerilla" sounds like Oh My Girl took their well-known ethereal concept and amplified it. The melody itself was very dramatic, suited for a fantasy or historical drama. I like to think of it as the more mature sister of SSFWL, and although the latter uses metaphors and imageries of love, nature, and changing seasons, "Guerilla" focuses more on inner strength, determination, and triumph. It sounds like a military anthem in a way, with lyrics and motifs such as "attention, salute, flag, and victory." The lyrics fitted Oh My Girl's journey and growth since their debut perfectly and as their fan, I was very emotional listening to it the first time.
10/10
Rektinq:
Oh My Girl is a group that I had high expectations for, which were all definitely met. I wasn't sure what concept they would choose, since they seemed to be experimenting with new ones, so I was really excited to see what they would do for their final stage. When the song began, I instantly knew it'd be good, as the opening sounded really unique. The song was somewhat similar to Oh My Girl's previous songs, where I typically enjoy the pre-chorus the most. The same applies to this song, and the section was also sung by my bias Seunghee. In many of Oh My Girl's songs, Mimi's rap would be a hit or miss, either blending really well or feeling out of place. Luckily, for this song, the rap blended in smoothly with the rest of the piece. I think that without Seunghee, I would've enjoyed this song less, not just because she's my bias but also because of her powerful voice. Seunghee's vocals are some of my favorite in all of K-pop, and this song definitely showcased them well. My favorite part of the song is definitely the part where they repeatedly sang "Salute" because of how catchy it was. This song might not have ended up as unique as I would've preferred, but it was still my second favorite of all the songs in this review, and probably the one I listened to the most.
9.5/10
"Lion" - (G)I-DLE
yooamygirls:
This song is arguably performing the best in the charts out of all the Queendom singles. (G)I-DLE and Cube have made the smart decision to use that to their advantage by properly promoting it and giving it a music video that it deserves. "Lion" had the quintessential (G)I-DLE sound. Soyeon's rap pushed the song forward and the five vocalists used their unique vocal tones to give life to the song. I hadn't realized how much I loved Miyeon's voice until her part in the chorus. It gave this song so much more energy and excitement and made it very addicting to listen to. I loved Minnie's high note before the second chorus as well. This song is very empowering and never gets old.
9.75/10
Rektinq:
If I have to be honest, I wasn't expecting a lot from (G)I-DLE's last stage, but I was definitely impressed. After getting used to the concepts they came back with, I was interested in seeing what they would do for Queendom. Sadly, I was a bit disappointed. I didn't dislike their songs, but they weren't my favorites and I had hoped they would do the concepts they had done before. I expected "Lion" to be a song that would only suit Soojin and Soyeon, but I was wrong. The song fits the other members really well and showcased how powerful they were, and watching it made me remember how big they'd grown in such as short time. This stage was dark and dramatic, filled with powerful sounds and beats. My favorite from this stage was definitely all of Soyeon's parts, which I expected to be because of how much charisma and presence she has. Soyeon played her part of a rapper perfectly, her stage presence really made me feel like she was as strong as a lion. However, as I expected, some members were not as powerful as they should've been to really bring this stage to its fullest potential. Nevertheless, I was already surprised by the explosive stage presence, which overtook my disappointment easily. Surprisingly, "Lion" became one of my favorite songs from "Queendom", and I'd recommend it to anyone who enjoys a really powerful song.
9/10
"우린 결국 다시 만날 운명이였지 (Destiny)" - Mamamoo
yooamygirls:
I had mixed feelings about this song because of its very experimental and unique type of sound, which stands out not only in Mamamoo's discography but also in K-pop in general. The tempo and vibe change constantly throughout the song, but I love how each member has a 'section' to themselves, so all four members can truly shine. It's not the most repeatable song for me, and I don't find myself listening to it very often. But when I do, I enjoy it quite a bit. I think I just find it a little confusing. Other than that, it's a well-produced and well-performed song, as expected from the vocal queens Mamamoo.
7/10
Rektinq:
I would say, in K-pop, Mamamoo is the group that has explored the most concepts and been surprisingly good at all of them. They have done so many concepts that every title track they have is unique from each other. This song was surprisingly slow at first, which made me think it would be a ballad but I was mistaken. The beat quickly picked up, and it just got better and better. My favorite part was definitely Moonbyul's rap, which was so unique compared to others. Moonbyul's voice in itself is unique, which just makes her rapping even better. When I think of a group with stunning vocals, I think of Mamamoo. This song really didn't disappoint, showing off their powerful vocals in one of the best ways possible. I think out of all the "Queendom" songs, this had my favorite chorus. Moonbyul's line just before the chorus added such a nice touch to the song. One thing I feel like has to be talked about is the other three member's vocals. Wheein, Hwasa, and Solar could all be main vocalists for their own group, and putting them together only makes for a more powerful vocal combo. "Destiny" may not have been my favorite song of all the "Queendom" stages, but it was definitely one I'll never forget and will always listen to.
9/10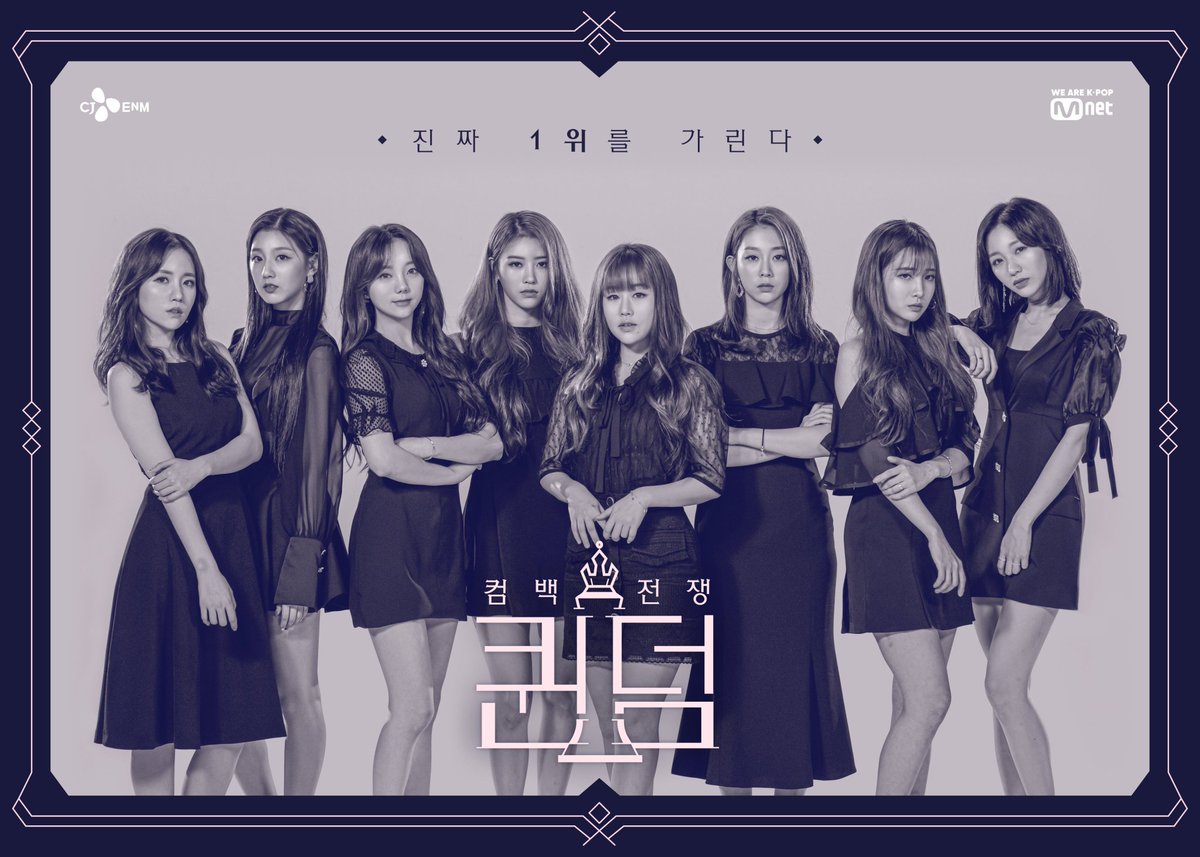 Closing Remarks
yooamygirls:
I had many reservations about "Queendom" before it started, mostly because I was a Miracle who didn't want Oh My Girl to compete against other artists I am a huge fan of. I was pleasantly surprised by how the show ended up being. It was a very wholesome show that showcased all of the artists' artistry and played to their strengths while also trying something new that they usually couldn't do during normal music shows. I thoroughly enjoyed all the covers and performances, but the highlight was definitely the finale singles. I loved all six of the songs, and I think having all the girls perform these songs made me enjoy them even more. I was very impressed by these singles and was even more excited for all of the artists to make a comeback!

Artistic Creativity: 10/10
Vocal Quality: 9/10
Music: 8.5/10
Queendom Final Singles: 9.1/10
__________________________________________________________________________________________________________________________________
Rektinq:
When "Queendom" first started, I wasn't expecting too much. I found some of the stages nice, while I found the others somewhat strange. I watched the show mainly due to Lovelyz and Oh My Girl, but this show has made me listen to Mamamoo and AOA again. I was surprised by how much I enjoyed the final stages and would definitely recommend everyone to watch or listen to them. The final songs were really good—some were even my favorite songs of the year.

Artistic Creativity: 9/10
Vocal Quality: 10/10
Music: 8,9/10



Queendom Final Singles:

9.3/10
​