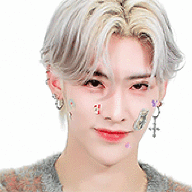 ムーンライト伝説
Awards Lead
GFX Trainee
Posts

1,205
Reaction score

1,613
Points

8,120
Plus Coins
The Awards Team would like to officially welcome everyone to Hallyu+'s very first, long awaited Awards Change Season
!
Some time ago the forum finally turned one year old - which means a lot of our badges turned one years old as well.
Which means, it's about time to make some changes! As they say, out with the old, in with the new.
Here is the voting section where everything will take place so make sure to check it out!
All awards will be split into 4 categories based on the number of badges under one group.
For example, BLACKPINK with 6 overall badges will get less time than Seventeen with 14.
Please plan your schedules accordingly so that you can fit everything in while still meeting the deadline!
Any groups that fail to meet their respective deadline will miss their chance for the update.
CATEGORY #1
Due
November 4th
AKMU
Bolbbalgan4
Gugudan
HKT48
I.O.I
JYJ
NEXT
NMB48
RPG
Rocket Girls
S.H.E
SiS
SKE48
Stray Kids
Turbo
UNIQ
Wednesday Campanella
Wonder Girls
X1
CATEGORY #2
Due
November 11th
A.C.E
BiSH
BLACKPINK
BTOB
Day6
f(x)
KARD
Ladies' Code
Lovelyz
MAMAMOO
N.Flying
NU'EST
Red Velvet
SF9
SHINee
Winner
CATEGORY #3
Due
November 18th
(G)I-DLE
APink
April
ASTRO
ATEEZ
BTS
CLC
Cross Gene
DIA
Dreamcatcher
EVERGLOW
GFRIEND
ITZY
KNK
Monsta X
TXT
Weeekly
VICTON
VIXX
CATEGORY #4
Due
November 22nd
AKB48
Cherry Bullet
EXO
fromis_9
Girls' Generation
GOT7
Hinatazaka46
IZ*ONE
Keyakizaka46
LOONA
NCT
Nogizaka46
Oh My Girl
Pristin
Seventeen
Super Junior
The Boyz
Twice
Weki Meki
WJSN
Kpop Soloists
Cpop Soloists
Jpop Soloists
Variety Stars
Companies
Variety Shows
Group OTPs
Female OTPs
Male OTPs
Mixed OTPs
And as for the formalities...
You're tired of your faves' old badges and you'd like to host a voting thread for them?
Check out this thread for further info!
Your biases already have their own threads and you'd like to help making their badges prettier but you don't know what's allowed or not?
Make sure to read the guidelines outlined here!
Now you know how the badge is supposed to know but you have no idea how to make it?
Here's a detailed Photoshop tutorial!
You suck at graphics and you simply would rather have someone else do it for you?
We're here to help!
If you have any further questions, feel free to
Ask The Awards Team
!
There's also a
new rule
regarding Instagram pictures so make sure to re-read the Guidelines!
And last but not least,
Have fun & may all the badges get an upgrade~​
Last edited: