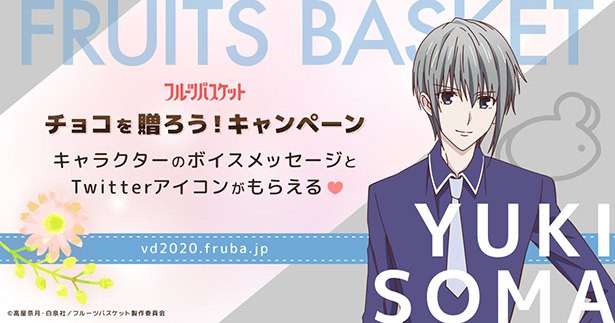 The official website for the new TV anime adaptation of Natsuki Takaya's
Fruits Basket
has started
a time-limited special campaign
that you can directly send virtual Valentine's Day sweets to eight main characters in the series. Then you will receive a newly-recorded message of thanks from them and an original Twitter icon.
Campaigh
[sic]
site URL:
https://vd2020.fruba.jp/
Campaign period: from 18:00 on February 7 to 23:59 on February 16 (JST)
Step 1:
Choose the character to whom you want to send a Valentine's Day sweet from Tohru Honda (CV: Manaka Iwanami), Yuki Sohma (Nobunaga Shimazaki), Kyo Sohma (Yuma Uchida), Shigure Sohma (Yuichi Nakamura), Momiji Sohma (Megumi Han), Hatsuharu Sohma (Makoto Furukawa), Hatori Sohma (Kazuyuki Okitsu), Ayame Sohma (Takahiro Sakurai).
Step 2:
Enter your name (up to ten letetrs
[sic]
).
Step 3:
Choose the sweet that you want to send from Financier, Muffin, Chocolate pound cake, Fondant chocolat, Chocolate truffle, Cup cake, Macaron, Gateau chocolat, and Japanese ganache (Nama-Chocolate).
Step 4:
Write your Valentine's Day message to the character (up to 1,000 letters).
Step 5:
Push the "チョコとメッセージを贈る" button in the bottom of the page.

​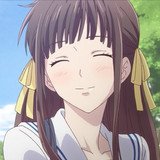 The official website for the new TV anime adaptation of Natsuki Takaya's Fruits Basket has started a time-limited special campaign that you can directly send virtual Valentine's Day
www.crunchyroll.com