🚀🚩
Social Media Lead
VIP+
Posts

2,303
Reaction score

5,081
Points

40,120
Location
Plus Coins
ALBUM REVIEW: 威神V – "AWAKEN THE WORLD"
Written by: Polaris_Tae
Note: I will be reviewing WayV as if it were a standalone group with very little connection to the wider NCT, and due to this, will not be comparing or contrasting the group to the larger Korean supergroup.

On the 10th of June WayV released their first studio album, "Awaken The World" — a continuation of the exploration of high fantasy concepts established in "Take Off" — and continued in "Take Over The Moon". The group have now found and established their own sound, largely separate from their Korean counterparts and aim at continuing to develop it while at the same time trying to find a place within the Chinese pop industry, which is primarily dominated by soloists

When I first heard that WayV was coming back with a full album, I was under the impression that it would be containing solo releases for all of the members, due to the track length and the fact that most — if not all — C-pop artists that I follow almost always have full albums that contain a compilation of solo releases for each of the members — see examples such as NEXT's "NEXT TO YOU" or UNINE's "u-night-flight" — therefore, seeing that "Awaken The Word" was a full album with not a single solo song in sight, came as quite a surprise. The idol industry within China is dominated by solo stans and supporting the group is still supporting their favourite member — this can best be seen in the album purchasing competition that Wajijiwa held for Rocket Girls 101's 1st full-length album, where benefits were given to the fandom that purchased the largest amount of albums for their bias. However, Label V — and SM Entertainment by extension — seems to disregard this aspect of fandom culture and essentially manages WayV like they were any other K-pop group.
'Turn Back Time'
"Turn Back Time" is the title track of "Awaken The World" which, along with "Bad Alive", was one of the songs previewed at their "Beyond The Live" concert. It is an urban-trap song about the groups' commitment to strive for the impossible. It was composed by the Swedish composer duo, Moonshine, who were previously involved in their previous title, "Moonwalk". However, unlike "Moonwalk", "Turn Back Time" does not involve a lot of complex instrumentals that would lead you to believe that the song is otherworldly. Instead, it gives off a technological feel with the blending of multiple synths that give off the sense that they are trapped by their humanity and wish to surpass common man and ascend to a higher plane of existence. This is perfectly detailed in the lyrics to the song, which explains that they wish to take control of both time and space as if they were gods among men. However, unlike "Moonwalk", which talked about establishing a society, with them at the helm — this song more so shows their ego to cement their status as gods even going as far as to attempt to turn back time, which would be physically impossible for anyone but a deity. As such "Turn Back Time" thus continues the multilayered godhood mythos that was explored within "Moonwalk", as well as creatively integrates their previous [Chinese] song titles into the song in a unique and interesting way. However, rather than exploring the Christian myth of creation they instead choose to integrate Eastern philosophies of religion, therefore, acting as the opposite side of the coin to last years "Moonwalk".

Unlike most of my previous C-pop album reviews, WayV does not hold back in the vocal department, they go over 9000 with their vocal range which will have you wondering why the hell they lack popularity in the Chinese pop market — which is mainly due to Label V's incompetence — despite having outstanding vocals in the form of Xiaojun, Kun & Ten who prove to us yet again how WayV is an all-rounded amazing group.
9.3/10
'Bad Alive'
"Bad Alive" is interesting, as when you initially hear the intro, it sounds almost like a rearranged version of the introductory composition of "Turn Back Time". However, where the two songs differ is in the way that "Bad Alive" lays its calling card at the heavy technological trap beats that distinguish themselves from the rock-influenced beats within "Turn Back Time"

"Bad Alive" is a story about success, power and absolute wealth where the group boasts about their superiority compared to the common man, proclaims themselves as gods in a world full of wealth and desire singing "I'm alive here to slay it all / I'm alive here on the mountaintop", thus placing themselves a tier above the regular person and proclaiming their superiority and displaying their superiority to the masses.

As for the song itself, I found that I enjoyed the technological-based instrumental that consistently plays throughout almost the entirety of the song. As always, Xiaojun never ceases to amaze me, even despite his muted vocals here when compared to the powerful technique that was established in "Turn Back Time".
8.2/10
'Unbreakable'
"Unbreakable", is an urban-trap song whose Chinese title translates into "Obsession" and it describes an obsessive infatuation over the memories of a toxic relationship and continues the story established in "Say It" & "Comeback", wishing that they could stay in the fairytale-like fantasy world that started at the beginning of the relationship. Instead, they are stuck in a tragic loop of introspection wishing to let go but never actually committing to it. Therefore, when combining the English title of "Unbreakable" with its original title ("Obsession") we can see that the absolute obsession that they feel towards the toxicity is "Unbreakable"

As for the song itself, I found that I enjoyed the absolute despair that was delivered through the vocalists which, when combined with the somewhat depressing nature of the instrumentals, particularly delivered the emotional tone that was needed for a song that, at its core, is toxic.
8/10
'After Midnight'
"After Midnight" is a downbeat-pop song with hints of EDM influences throughout the composition and is, in essence, the "Love Talk" of "Awaken The World". It is perhaps even more explicit in terms of their intentions and desires that were voiced during "Love Talk". This can be seen through the lyrics "Forget all your strict daytime manners / It's time to swallow your past pride / Can't stop our touches and cries / let the excitement burn for just a moment / I want it all / I want it all"

The song acts as a counterpart to "Love Talk", while at the same time directly referencing back to its predecessor through the subtle use of lyrical explanation and contrast. The most obvious comparison is seen in the midnight theme, which is explored thoroughly in both "After Midnight's" "The moonlight blooms the brightest at midnight", and "Love Talk's" "Borrow some courage from the moonlight". The most noticeable advancement is that the one-night stand that was explored in "Love Talk" has now turned into a relationship, and the two are now meeting up for some fun in the night together. I found that I enjoyed Hendery's parts the most, as we get to finally see a vocal colour from him that is often not seen in WayV's releases, as he is often relegated to his role as a rapper, even though all of the group members have voices that suit their tracks as vocalists. If given the chance, I would love to see each of the members be given solo tracks to display their talents as individuals.
9/10
'Interlude: Awaken The World'
"Interlude: Awaken The World" is, as it says, it's an interlude set to break up the album into two concise halves and serves its purpose perfectly. It keeps the futuristic tone set by the previous tracks and stays thematically true to the concept of the album. I have no complaints.
10/10
'Only Human'
"Only Human" is a hip-hop song with an all-encompassing guitar loop that helps to add a further layer to the song and explores the self-introspection of humanity, both on a local scale and a further cosmic scale and brings us to ask, what exactly is humanity? Is it our simplistic definition within the animal kingdom, or is it on a broader scale? Are we human based on our culture and technology and our will to explore the unknown, even if that means leaving our comfort zone? I think the greatest aspect that I enjoy about unit songs — as seen in "Only Human" — is the division of lines is often more equal in regards to members that are often shafted to the sidelines -- such as WinWin and Hendery — in the groups' title tracks. "Only Human" gives us great food for thought, while at the same time allowing the less vocally pushed members their time to shine.
8/10
'Domino'
"Domino" — along with "Turn Back Time" — is likely, my absolute favourite song on "Awaken The World". The track is an RnB pop song revolving around an unbalanced relationship, where their feelings are not reciprocated by the other to the point that it makes them physically sick — where they feel like they are falling down like dominoes. The lyrics give us an image of an uncaring lover, who willfully sits by and watches as their significant other breaks into pieces. They are the kind of person who will willingly sit down and watch the world burn for the fun of it. "Domino", just like "Unbreakable" gives us an image of a somewhat toxic relationship that is on the edge of falling apart. However, unlike "Unbreakable", they are not obsessed with their lover. Instead, they feel like they are not appreciated enough and feel like they will fall into a pit of despair if this unfair relationship continues for much longer.

As for the song itself, I found that even though "Domino" is not as vocally complex as songs such as "After Midnight" or "Turn Back Time", we still have the standout lines from Ten and Xiaojun. However, that is not the focus of the song. The instrumental is what drew my attention right from the beginning. In particular, the way that the producer gave us an extremely bass-heavy song that, instead of focusing on vocal distinguishing, focuses on delivering the main message of the song through the collective voices of the group, rather than a single person. Through this distinguishing factor — although it may not be done on purpose — we can come to an understanding that the grievances within society can only be championed by an individual up until a certain point. It is up to the collective to assemble and protest against something they see as an injustice if they really want to make an impact (see the recent resurgence of the Black Lives Matter movement, feminism, LGBT activism, etc). Overall "Domino" is a song that focuses more on group harmonization than individuality, which is something that works to its advantage and made me appreciate the song to its very core.
9.5/10
'Up From Here'
"Up From Here" is a light pop-infused song about the happiness and joy of a friendship growing into love. Incidentally, "Up From Here" basically acts as the polar opposite to "Domino", the song directly before it on the tracklist. Where "Domino" explores the mental breakdown and abuse that comes from feelings of being ignored, "Up From Here" gives us the view of how heart-fluttering the reciprocation of a person's feelings can be. I greatly enjoyed the falsetto given to us from each of the members and find that, within their discography, harmonization is one of the things that the group excels at. This is a great song that tells us to live in the moment and to enjoy life to its fullest, as a person's lifespan only lasts so long, and you've got to make the most out of it while you can!
8/10
'Electric Hearts'
"Electric Hearts" is an electronic percussion-heavy song that tells the story of spreading love, not just between two people, but throughout the world. I enjoyed the slight experimentation in genres that was given through the addition of this song to the album, and hope that WayV continues to explore more fun and diverse sounds like this in the future. The song tells us the story that, intrinsically, all love matters — no matter what you identify as you matter and your feelings and love matter. It doesn't matter what other peoples opinions are, you first and foremost need to be comfortable with yourself and love yourself in order to spread and accept that love and happiness to those that you most appreciate.
8/10
'Stand By Me'
"Stand By Me" is an urban pop song about reassurance and healing. The group assures the listener that even on their darkest days they will have a shoulder to lean on and that someone will always be by their side and, even if they feel like no one cares for them, the group will stay by their side and support them forever. When I first heard, "Stand By Me" I felt that the song was grossly underproduced and did not stay tonally consistent with the overall message put across through the album. However, upon relistening to the song now, I've concluded that even if it deviates from the larger message of "Awaken the World", it is the perfect song to go out on. It is exactly this kind of raw and uplifting emotion that is needed to assure the audience that, 'yes we're still by your side and we're not planning on leaving anytime soon'!
7/10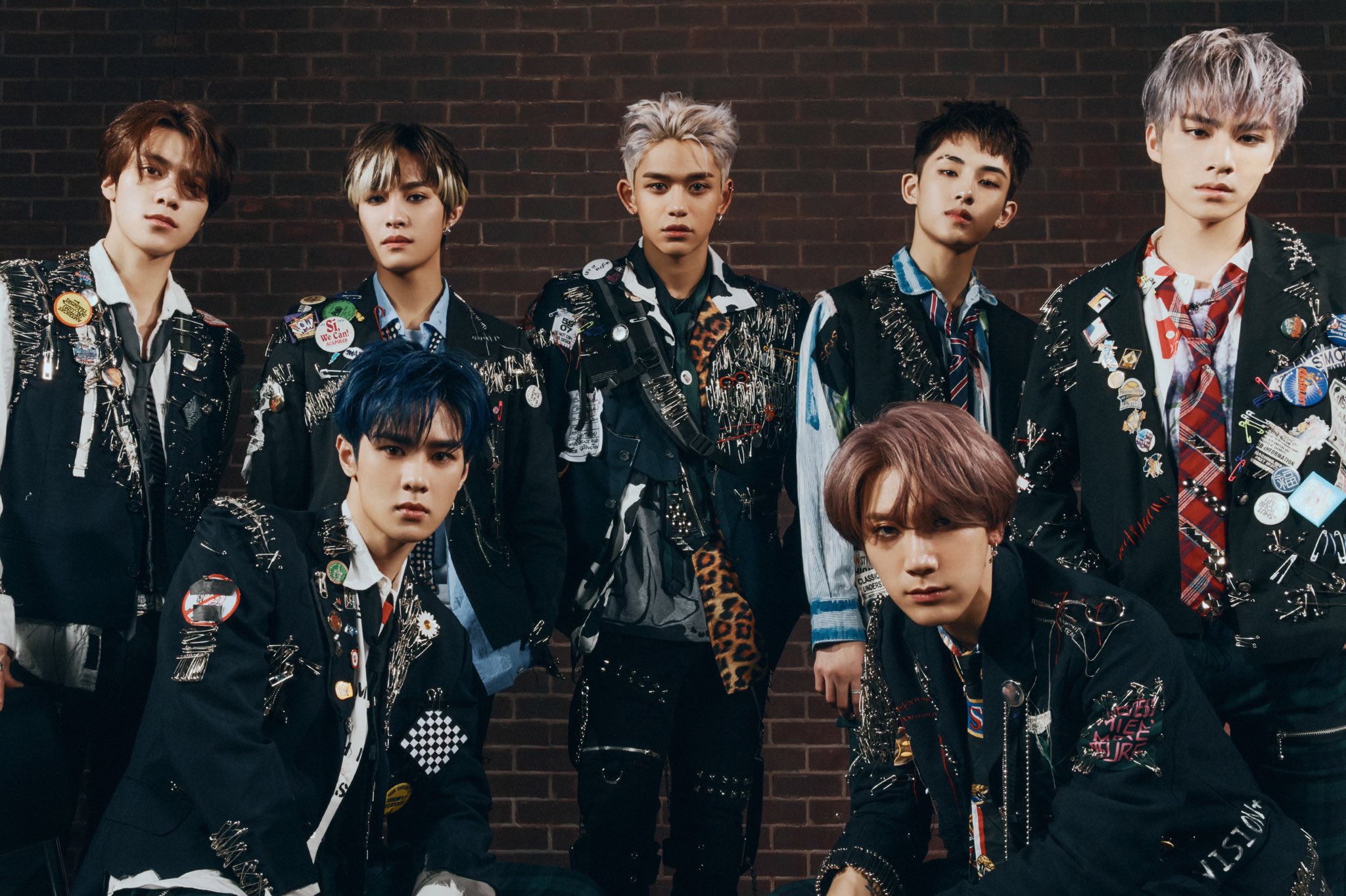 In conclusion, I feel like "Awaken the World" is a great addition to the groups' growing discography. However, the album did not feel as tonally consistent as their previous releases — see "Take Over the Moon" with its overarching space opera concept that bleeds both into the lyrics and composition of the album — as some of the songs just felt like they belonged on a completely different album. This was still a solid release regardless of this issue. I just hope that next time, I won't have to wait over half a year for new content from the group. I can only survive so much on Yizhibo and Instagram Live.
__________________________________________________

Artistic Creativity: 9/10
Vocal Quality: 10/10
Music: 8.5/10
9.1/10
PROOFREAD BY: @Dragon of the West
GRAPHICS BY: @Mina
​