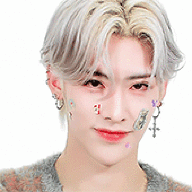 ムーンライト伝説
Awards Lead
GFX Trainee
Posts

1,161
Reaction score

1,553
Points

8,120
Plus Coins
On this thread you can find our current requirements for any award being added to the system as well as submit them here for approval!
This thread is
NOT
for questions, if you need to ask us something please use the
appropriate thread
.
​
General Guidelines
No fantaken images.
To protect the content creators rights as well as ourselves fantaken images are not allowed to be used as badges.
Only HQ pictures.
For quality purposes. The higher quality, the better an image will look as a badge.
No heavily edited images.
The more edited, the worse the quality becomes overall.
No extreme contrast, highlighted colors, or super light/dark images.
They just don't look good when sized down.
Face should be centered.
For aesthetic purposes.
Logos should only be used for groups & are not allowed for individuals (in most cases).
We understand some artists are very difficult to find pictures of and will deal with that on a case by case basis.
Only screenshots from Music Videos, CFs and official content are allowed.
If you're unsure what falls under this rule, please don't hesitate to ask on our ask thread.
Profiles can be used, as well as some object coverage is allowed.
Face coverage isn't totally ruled out but the more you can see of the artist the better. Profiles are OK if we can clearly tell who the artist is.
Derp faces / Exaggerated facial expressions / Unrecognizable.
These will not be allowed, badges are not to be meme-like or anything that is out of the ordinary/unpleasant, such as: frowning, crying, etc. We will also not be allowing badges that look weird and in which people look unrecognizable - regardless of it being an official picture.
Zooms.
Any mocks found to be too zoomed in or zoomed out will need to be readjusted, as all badges must be able to resized down to 74x74 properly. In the event a mock does not pass crop standards, it will need to be readjusted until our quality standards are met.
Pre-Approval of badges.
We ask that all OP's submit their round 1 mocks to be pre-approved by an Awards member in the appropriate thread. This is to avoid badges that are not up to standards from making it to later rounds and dividing votes from other badges. That being said, we still reserve the right to veto any badge that we feel does not follow the rules by the final crop (this is especially relevant in crop rounds).
Final submission.
The Awards team reserve the right to re-do a mock if we feel they are not in accordance to all the aforementioned rules.
OTP/Sub-Unit Guidelines
Same guidelines as above apply though less strict:
No more than two people in an OTP badge.
Sub-Units should be officially debuted units either on stage or with at least a digital release.
Group x Group OTPs are okay but please don't request every group OTP under the sun, try to choose groups that have actually interacted or are perhaps even friends with one another.
OTP's
will need to buy a
form from the SHOP+
to insert them in the system.
Sub-Units
will need
2 Keepers/5 Supporters
.
Anime & Video Game & Dramas & Variety Guidelines
-
Only official artwork, no fan-drawn images allowed
-
Screenshots are fine but should be high quality
- Will need to buy a form from the SHOP+ to insert them in the system outside of the ones voted on the Anime and Games thread
FAQ's
›
What type of awards can be added?
Asian Artists (Groups, Sub-Units & Solos)
OTPs
Actors/Actresses (Asian)
Anime & Video Game (titles and characters)
Dramas and Variety (titles only, e.g. logos)
›
How do I add an award?
You can add an award by filling out a request form and posting it here.
In addition to the form you will need
A valid voting thread
5 Supporters and 2 Keepers, at least 3 of these users must quote your request
Username: username here
Name of Award: the award's name, should include group if necessary
Type of Award: the type of award it is goes here
Voting Thread: link of the voting thread so we can check to make sure everything went fine
Original Image: link the original image so we can determine if it's usable
Mock Award: you can make your own mock or request a team member to make it for you
List of Supporters:
List of Keepers:
›
What are supporters and keepers?
Supporters - users who support the award being added to the system. Keepers- users who will keep the award so that it's not at risk of being deleted during annual purges. This is to make sure only awards that are actually being used and enjoyed make it into the system without overloading it with ones people are uninterested in.
›
How do I make a voting thread?
Start by creating a thread in the Awards sub-forum. You'll want to include all relevant information in the title such as the group name and important deadlines. You'll need to create a schedule: we recommend 3-4 days for suggestions and another 3-4 days for voting. Smaller, less popular groups may require less time so use your own judgement. You must include the awards guidelines clearly in the first post and reject any suggestions that do not fall under those guidelines. We recommend creating a collage or imgur gallery of the suggestions which each one clearly labelled so that users may vote easily.
Voting polls must be made public
, no exceptions. H+ has a handy feature that can close the poll for you after a certain amount of days so you don't need to worry about forgetting.
Wildcard rounds
are acceptable and can only be implemented after voting is finished if there is new material to be voted on. You must include the previous wining badge in the final wildcard voting. You may not hold a wildcard round if a majority of voting users do not wish for one.
Editing rounds
should only be done on a wining badge and should be minor adjustments at most.
›
What if my request is rejected?
We will detail in the post why the request was rejected. If you have further questions you may ask on the
appropriate thread
or PM any team member
Last edited: