chihoon!
Social Media
Top Ten Elite
Posts

1,376
Reaction score

1,841
Points

8,420
Location
Plus Coins
OCTOBER 5 - OCTOBER 11
Hello once again, users of HallyuPlus! We're back again to bring you another dose of news, charts releases and more for another week! This week we welcomed the first comeback rush of October, with many of our favourite artists beginning to come back for what could possibly their final release of the year as 2020 begins to come to a close (finally). Now, with that said, let's jump into another week of updates!
BY POLARIS_TAE & BEEFY
MONDAY:
#1- We continue to be blessed this month, as many artists continue to announce their comebacks and debuts. Let's start with the debut new first as YG Entertainment announced that
AKMU's Lee Suhyun
will be making hers on October 16th! Just three days later on October 19th,
Seventeen
will be making their comeback with the special album "; [Semicolon]".
B1A4
will also be releasing their fourth album titled "Origine" on the same day! Former Secret member
Song Jieun
will be releasing the single "피어나:開花" on October 22nd as a continuation of her 4 Seasons Project. Finally,
MONSTA X
will be coming back with their third full-length album 'FATAL LOVE' on November 2nd, changing up the pattern of October releases! Which comeback are you looking forward to the most?

#2- Now some great news for Infinite stans,
Lee Sungyeol
was officially discharged from the army on October 4th! We are very excited to have him back, and congratulate him on his release!

#3-

Actress

Kang Han Ha

has officially signed with KeyEast Entertainment following her departure from Fantagio. May she continue to flourish under her new company!



#4- In the world of variety, there is some exciting news. JTBC has confirmed that
Blackpink
will be a guest on their show 'Kowing Bros' broadcasting on October 17th. In the wake of their release next week SM has announced that
NCT
will be having another reality show; this time it will feature all twenty-three members! The show will be broadcasted on October 15th and air on MNET. Will you be tuning in to either show?


#5-
KCON:TACT Season 2
has announced two groups that will apart of its final lineup. The two groups are IZ*ONE, who will be making their return to the event, and rookie boy group WEi.
Live in DMZ
has also announced their concert lineup, it includes artists like Kang Daniel, LOONA, Mamamoo, MONSTA X, and ITZY. The concert will be held on October 23rd through 25th, Super Junior's Leeteuk and Uee will be MCs for the event. We are looking forward to many great performances!

#6- To wrap Monday up, information on the new theme song for the Sailor Moon movies was released! The song is tiled 月色 Chainon ("Moon Colour Chainon")" and will be sung by
Momoiro Clover Z
and the sailor scouts themselves. Make sure to check out the linked thread for even more information on this release!
TUESDAY:
#1- Firstly,
T-ARA's Hyomin
is currently preparing to make a solo comeback with a new album by the end of 2020. Though, there is no confirmed date we are still looking forward to it!

#2- During SKE48 12th Anniversary Fes 2020, it was announced that the group's 27th single will be Jurina Matsui's graduation single. The single will be released in the spring of 2021. Are you prepared for Jurina's departure from the group?

#3- Actor
Ji Soo
will be following the same path of his colleagues, as he will reportedly sign with KeyEast Entertainment following his contract expiration with Prain TPC. Former IKON member
Kim Hanbin
has also joined a new company, he has been appointed an executive director at IOK Company. The company is home to artists such as Jo In Sung and Moon Hee Jun. We wish them both the best at their new companies!

#4- The announcement of
Infinite's Lee Sungyeol
discouragement from the military shared on Monday has now been confirmed! Though his discharge date has been changed due to COVID-19 protocols and the idol will now maintain his status until October 27th. We can not wait for his return later this month!

#5- As for the variety world, it's been shared that
Blackpink
will be appearing as a full group on SBS "Running Man", they are currently filming, and there no official broadcast date! JTBC has announced that the upcoming episode of "Knowing Bros" featuring Block B's Park Kyung will not be aired. The episode featuring Im Chang Jung, Shin Bong Sun, and Jessi as guests may be aired in its place.

#6-
GFRIEND
have announced their 2020 online concert "GFRIEND C:ON" which will be held on October 31st, tickets will go on sale on October 7th! To add to the digital concerts, newly debuted
Lee Eun Sang
will be holding an online fanmeeting "Beautiful Sky" on October 24th. Will you be attending one of the concerts? Both?

#7- The 2020
Asia Artist Awards
(2020 AAA) will be held on November 25th with the red carpet starting at 16:00 KST! We cannot wait for the ceremony.

#8-
Bang Minah and SF9's Inseong
will be members of the musical "The Days"! Inseong will take on the role of Moo Yeong and Minah will play a woman who has been missing for twenty years. The musical will open on November 13th at Chungmu Art Center. With such an intriguing character, we are looking forward to watching it!

#9- Finally, after only four days into their debut group
MAMESHiBA NO TAiGUN
announced that they will be holding a performance set on October 11th in none other than the Tokyo Dome. The group will be participating in a small athletic event amongst themselves in the large dome, and fans will be able to bet on each event with the purchase of an album. The prizes fans could possibly win include a VIP Pass to future concerts, a signed polaroid, and a restaurant fanmeeting! The event will be streamed on their Youtube channel (with no live audience), so make sure to check out the thread for a link to it! Do you think this is a risky move for a new group?
WEDNESDAY:
#1- Taeyeon's younger sister,
Hayeon
made her solo debut on October 6th with the single "Eyes on you"; she will continue to promote as a soloist later this year! Adding to the solo news, we now have more information on
AKMU Lee Suhyun
's solo debut. It will be a single titled "Alien"! Have you listened to Hayeon's single yet?

#2- YG Entertainment has announced that the nurse outfit scene in
Blackpink
's Love Sick Girls music video will be removed following much controversy. In the statement, the company apologized directly to nurses and shared that making them feeling uncomfortable was never their intention. Do you think was a necessary decision?

#3- More idols have been discharged from the military due to COVID-19 protocols. The idols SHINee's Key, VIXX's N, and 2AM's Jeong Jinwoon were discharged on October 6th and will not have to return to base! We welcome them back!

#4-
NGT48
will be restarting their performances at Niigata Theater on October 11th! This was originally planned for August but was subsequently delayed to Reina Seiji and a staff member testing positive for COVID-19. The theater will only allow up to 95 fans and will follow other COVID precautions. We hope they can reopen safely and problem-free.

#5-
The Shiny Foundation
, which was founded by the late Kim Jonghyun's mother and Lee Seun Kyung, has donated 20 million won to the Community Chest of Korea. 39 million was raised in total during an auction, the remaining 19 million will go towards creating a new psychological counseling center for youths and you artists! To add on to such an amazing deed,
Sandara Park
has donated 30,000 to several children's medical organizations including the Korea Children's Intractable Diseases Association, WE START, and the Korea Pediatric Cancer Foundation. We deeply appreciate their absolutely amazing acts of kindness.

#6- Rookie girl group
Weeekly
will be joining CL, P1Harmony, and BigHit artists on the Weverse community! Dailee are you excited?
THURSDAY:
#1- On Thursday we learned that Jannabi will be making their comeback sometime between late October to early November. It has been announced that Park Jihoon will be coming back to bless us with his first regular album in early November. Meanwhile, Kim Wooseok and Lee Eunsang have revealed that they will be dropping a surprise collaboration single on the 14th of October. We also came to know of a new girl group on the horizon. HIGH-UP Entertainment has revealed that they are in preparation to debut a new girl group, HIGH-UP Girls this November. Black Eyed Pilseung has been announced as the groups' producer. Which announcement has you the most excited?

#2- The 2020 Korea Music Drive-In Festival has announced its October 31st line-up! WJSN, NCT U, ASTRO, MOMOLAND, AB6IX & more have all been confirmed to be attending the festival. Another festival, the 2020 Gangnam Festival Kpop Concert set to be held during the 18th of October has confirmed its line-up. With great acts including Kang Daniel, Red Velvet, ASTRO, Oh My Girl and more set to perform we're sure it'll be a great experience! Meanwhile, PEDRO -- containing BiSH's Ayuni D -- has announced that they will be holding a solo concert in Japan on the 13th of February next year at the Nippon Budokan. Which performance are you most anticipating?

#3- Super M participated in and performed for an online event run by the World Health Organization on the 10th of October, for "World Mental Health Day". Did you catch their performance?

#4- BtoB's Seo Eunkwang, along with Sandara Park will be making their debut as the newest MC's for STATV's "Idol League". Meanwhile, It has been announced that TOO's Jaehyun will be joining Arirang's "After School Club" as their newest MC. We congratulate them all on these new and exciting opportunities!

#5- It has been announced that the K-pop girl group S.I.S (not to be confused with the C-pop group of similar name) will be promoting as three members for the foreseeable future. As two of its members, Dal & Minji will be taking a break from promotions.

#6- Jessica Jung has just added "New York Times Bestseller" to her list of achievements and qualifications after it was revealed that her debut novel, "Shine" had debuted at #5 on the New York Times Bestseller Young Adult Hardcover list! Congrats to yet again another achievement for our favourite Ice Princess!
FRIDAY:
#1- It has been announced that Exo's
Chen
will be coming back to bless us with his amazing vocals this October when he releases a new digital single, "Hello" on the 15th. We can't wait!

#2- ENHYPEN have announced their
official fandom name
to be "ENGENE". What are your thoughts on this name? Do you think it's a good choice?

#3- It has been announced that
A.C.E
will be starring in their very own webtoon series. We can't wait to read just what adventure they get up to!

#4- Oh My Girl's Seunghee is set to join Park Chanho & Lee Youngpyo in the KBS2 sports variety show, "
Not Soccer and Baseball
". Meanwhile, TWICE's Nayeon, Jihyo & Dahyun will be appearing on an upcoming episode of tvN's "
Amazing Saturday - DoReMi Market
". We can't wait!

#5- It has bee reported that APink's Bomi will be joining the cast of the upcoming MBC drama, "
Please Don't Meet Him
".

#6- Friday was a day for weddings! As it was revealed that Jei, formerly of Fiestar
had gotten married
to her fiance. We congratulate the happy couple!

#7- It was announced that
NEXT
will be one of the artists in attendance at the upcoming Douyin Wonderful Night.

#8- BiSH have announced that they will be releasing a
collaboration
with Call of Duty: Mobile.

#9- It has been announced that Tsubaki Factory's Ogata Risa will be suspending her activities indefinitely with the group after it came to light that the idol had been trash-talking her group members along with photos of potential boyfriends and declaring her intention to graduate from the group. What are your thoughts on this issue?
SATURDAY:
#1- On Saturday we learned that Loco will be finally making his comeback with a new album "Some Time" on the 14th of October. Meanwhile, AleXa has revealed that she will be coming back with new music on the 21st of October, while the virtual Kpop girl group, K/DA has announced that they plan to release their new EP "All Out" on the 28th of October! Which release are you anticipating the most?

#2- STELLAR's agency stepped up this week to deny former member Gayoung's claims regarding mistreatment from her former company stating that the company had paid her despite the fact that the group failed to break even during their career as a group and stating that they asked and received consent from the group members parents before attempting the sexual concept that the group was known for. What are your thoughts on this? Do you think the company is being genuine with their answers?

#3- LiSA has announced that she is preparing to hold her 1st online concert「ONLiNE LEO-NiNE」on the 12th of December. We can't wait!

#4- Just as NMB48 celebrated their 10th anniversary, we learned two new pieces of news about the group. Firstly that the group would be releasing their latest single, "Koi Nanka No Thank You" this November -- which Yoshida Akari is set to centre in preparation for her upcoming graduation following its release. Furthermore, Murase Sae announced her intentions to graduate from the group, however, a graduation date is set to be finalized. What are your thoughts on these developments?

#5- Sato Shiori also announced her intentions to graduate from Keyakizaka46 on the 13th of October, just prior to the groups' rebranding as Sakurazaka46. We wish her the best in all of her future endeavours.
SUNDAY:
#1- SUPER☆GiRLS have announced that they will be releasing their all-time best album, "Chozetsu Shojo☆COMPLETE 2010-2020" on the 23rd of December. We can't wait!

#2- It has been announced that Dita of rookie girl group SECRET NUMBER has been selected as the newest model for the cosmetics brand NACIFIC. Meanwhile, Shiraishi Mai has been selected as the latest model of of「GRL」for autumn/winter fashion We congratulate them on these exciting new opportunities!

#2- It was announced that Heejin, formerly of GOOD DAY had gotten married this week! We give our congratulations to the happy couple!
BY POLARIS_TAE & DRAGON OF THE WEST
#1. GOLDEN CHILD - PUMP IT UP
Golden Child have spent the past year exploring a musical trilogy that pulled their sound towards a darker direction and birthed some stellar songs in the form of "
Wannabe
", "
Without You
" and "
ONE (Lucid Dream)
" but this time the group is back with the single "
Pump It Up
" which takes us back to their bright, energetic style. When it comes to a song like this, you've gotta sell it. The energy needs to feel believable, not some forced move from an uncaring agency. This is where Golden Child have always excelled in. The track embraces old school funk-pop, driven by a rhythmic instrumental and as a rarity for K-pop, the production makes generous use of vocal samples, incorporating them as part of the song's unyielding rhythm. Even better is the harmonized pre-chorus, which blossoms with cheerful energy. In a year where music of this style is very hard to find, "Pump It Up" is a needed burst of joy.
#2. WJSN CHOCOME - HMPH!
After four years of steadily-increasing success, WJSN have unveiled their first sub-unit, WJSN Chocome! Which consists of members Soobin, Luda, Yeoreum and Dayoung, and promises a quirkier concept than the group's usual space-and-fantasy-themed material; and boy does it deliver on that promise! The unit debuted with a single album and title track both titled "
Hmph!"
. Right from the start, the track's pulsing dancefloor beat brought me back to a different era. Add a brass loop on top and you've got all the ingredients of a second-gen smash hit. The refrain lacks a little bite and even though it is repetitive and catchy, it doesn't quite excel melodically. However, its great energy helps to compensate. Its electropop groove never dips or strays, and their vocals are largely arranged as part of the production. When they devolve into a series of blips and bloops, it's in keeping with the general vibe the instrumental has set up. "Hmph!" is designed with a very specific aim is successful in delivering its concentrated sugar rush. I'd recommend checking it out even just to enjoy the quirkiness of the music video.
#3. NU'EST - DRIVE
We welcomed back Nu'est this month with their first Japanese comeback of 2020 in the form of "
DRIVE
", the groups' 2nd Japanese full-album and their title track of the same name. Earlier this year, the group came back with "The Nocturne" and what was possibly the best line distribution of the year with "I'm In Trouble". "DRIVE" is no different, showing us that fair line-distribution within mid-sized groups is absolutely attainable and that everyone should be striving for this in some way or form. "DRIVE" tells us of the groups' desire to travel the world to "DRIVE" to all of the unknown places without a plan in the world with the radio on blast and the volume turned up (since travel by air is currently limited) while blessing also us with their amazing voices to give us the most spectacular ride of our lives in the best way possible!
#4.LOL - RESTART
lol have returned yet again this year with their latest single "
Restart
". The Japanese co-ed group brings us the perfect song to say goodbye to autumn for another year as the weather prepares to cool down for another year and we prepare to meet the end of 2020 as the year finally prepares to wind down after what felt like years. "Restart" is an up-tempo release that relies heavily on the absolutely wonderful piano melody that compliments the members vocal wonderfully, while at the same time adding an interesting quality through the use of this aspect. Essentially, "Restart welcomes us on a great new ride into the world of amazing music delivered to us in only the best package from lol!
#5. WEKI MEKI - COOL
It's pretty great seeing how much Fantagio Entertainment have been promoting Weki Meki as the group is back with their third comeback in just under 8 months. They've released their 4th mini-album "NEW RULES" and the title track "
COOL
". The track brings them back to their edgier roots, unveiling a group that feels revitalized and refocused. The club beat employs dulled electronics to craft an instrumental that feels both exciting and aloof. The song is rap-heavy, but not in the way you'd expect of a K-pop track. The first verse feels more like spoken word, riding the groove with a too-cool-for-school attitude. When melody finally pops up in the pre-chorus, it doesn't amount to much. But in a song of this style, it doesn't really need to. The vast majority of "Cool" lives up to its title and it comes across as a real turning point for Weki Meki, and a strong example of K-pop's ubiquitous "girl crush" concept
#6. SF9 - SHINE TOGETHER
SF9 are back with a gift to their fans in line with their 4th anniversary. The guys are right to take a victory lap, as years of hard work have really paid off for them as seen through the success they've achieved in 2020, and that right there is proof that sometimes the long game is more important than out-of-the-gate hype. They've released a special single album "Special History Book" with the title track "
Shine Together
". The song is a mid-tempo ballad that does a great job of showcasing their vocal abilities and allows them to express their emotions quite well, making the song feel warm and inviting to the listener. The rappers go for a softer approach than usual in this song, especially through the sequence in the bridge, and this helps build a climax to the song. The piano and other instrumentation come together to cohesively work with the vocals and rapping to be a warm track that will definitely push it even more into a fan favourite, and I'm sure it's going to be a great encore track once in-person concerts can become a thing again.
#7. WEI - TWILIGHT
WEi comes armed with an already-established fan base, thanks to its members gaining fame through the Produce 101 franchise and being ex-members of X1, JBJ, Rainz and 1THE9. I am a little hesitant to say that their track "
Twilight
", from their debut mini-album "IDENTITY: First Sight", is lackluster overall at this stage, considering that I do have a feeling that the song might end up catching on down the road. Aside from first impressions, "Twilight" manages to showcase the potential behind this new group. Their vocals were quite solid and the rapping provided some much-needed oomph to the song. That being said, the vocals could have been enhanced slightly with some punchier lines and much stronger melodies. For the playful pop instrumental, the lightness of the song is both a flaw and a strength. It does make the song feel comfortable and pleasant on the ears. The acoustic guitars in the bridge were quite nice and helped clear the board to make the final chorus a little more dramatic. Overall, this is a decent debut track, and despite the concerns, it will be quite interesting to see how they progress with future releases.
#8. SNH48 - TAKE ME
Earlier this week, SNH48 released the music video to 'Take Me" as a commemoration of the remaining 12 first-generation members graduating from SNH48. The song is an interesting EDM-Fusion that adds elements of eastern composition to add a further dimension to an already great song, which is just further emphasized with the addition of the amazing vocals of each member. The original members held a series of concerts as a final goodbye to their career under the name SNH48 — Xu Jiaqi was sadly unable to participate due to her contractual obligations with the IQIYI temporary group THE9 — officially saying goodbye to their careers as SNH48 Team SII members only to say hello to their new journey as soloists — or in the case of members such as Dai Meng & Mo Han, as members of SNH48 related groups such as SEN7ES & AW9. "Take Me" was released at the same time that their final concert and expresses their desire to remain in the hearts and memories of all of their fans marking the past seven years of their journey in SNH48 as an unforgettable journey.
#9. DAWN - DAWNDIDIDAWN (Feat. JESSI)
DAWN is back with his first mini-album and its lead single both titled "
DAWNDIDIDAWN
". His flow here is loose and fun giving the track some enjoyable energy. Fellow PNation labelmate Jessi joins Dawn for the song's conclusion and as expected, delivers a rather memorable verse. The whistling throughout the song is quite addictive and is a massive earworm that works well tied to the thumping beat. One glaringly obvious comparison that can be made is that this song is quite reminiscent of G-Dragon's earlier solo work such as "Crooked" and "One of a Kind" which is a compliment to Dawn is nothing else. He delivers with the attitude but also a bit of a playful vibe and all in all, this is a pretty decent flex song.
#10.JOOHEON - SMOKY
MONSTA X's Joohoney is the epitome of strength in his new track "
SMOKY
" from his latest mixtape "PSYCHE". "SMOKY" with its rock-based instrumental has hard-hitting lyrics, that talk about the feeling of being lost and wanting to be found, not knowing who you are, and no one else knows who you are either. It's a perfect example of Joohoney's artistry, as he also played the drums for this track. He mentioned that he worked on the track during one of the toughest times in his life and this is evident as the song mentions him collapsing in the darkness, losing his old-self who was so passionate and trying to reach out to himself. The song does end on a good note as through the final verse, he delivers words of encouragement not just to others, but also to himself.
BY DRAGON OF THE WEST
#1. BLACKPINK have surpassed
50 million subscribers on YouTube
, making them not just the first Korean act but also the first female act in general to surpass this milestone on the platform. Their latest music video "
Lovesick Girls
" also surpassed 100 million views on the streaming platform within just 3 days since release. The group's first full-length album "
The Album
" sold 500,000 copies on Hanteo on its first day, breaking the record for the girl group with the highest 1st-week sales.


#2. Xiao Zhan's "
Made to Love
" is reportedly the best-selling streaming single in the world with over 41.63 million copies sold in just 6 months.


#3. TXT have recorded 300,000 stock pre-orders for their upcoming mini-album "minisode1: Blue Hour".
BY POLARIS_TAE
We welcomed another User of the Month for the spooky month of October in the form of Polaris_Tae, who proved to us just how hardworking they are through the Social Media team to be able to finally nab that "User of the Month" title. Congrats!
Here are all the awards that were added to the system this week! You can request them
here
(don't forget to follow the instructions in the OP)!
Stannie hosted a game "
Of Friends & Foes
" where users played a game of truth and lies. Would they stab each other in the back in order to win, or would they put their trust in others to help secure them te win? Ultimately Polaris_Tae was the biggest snake of the night and came out on top!
Shop+ fans, our team was busy again this week stocking our store with only the best items for you to display alongside your amazing sets! Purchase them today!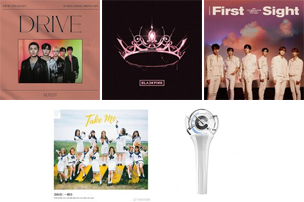 The Social Media Team published one article this week!

lex. gave us their thoughts on Day6 - Even of the Day's debut album, "
The Book of Us: Gluon - Nothing Can Tear Us Apart
".
+
Hallyu+ is actively recruiting for staff. If you want to contribute to the forum's growth and join our amazing team, don't hesitate and apply now!
We are searching for new members for the following teams:
GFX, Public Relations - Video & Outreach Divisions & Translations.
This brings us to the end of ICYMI for another week. We hope to see you at the same time next week for additional great news, updates and more!
GFX BY @yerm
PROOFREAD BY @Dragon of the West
​